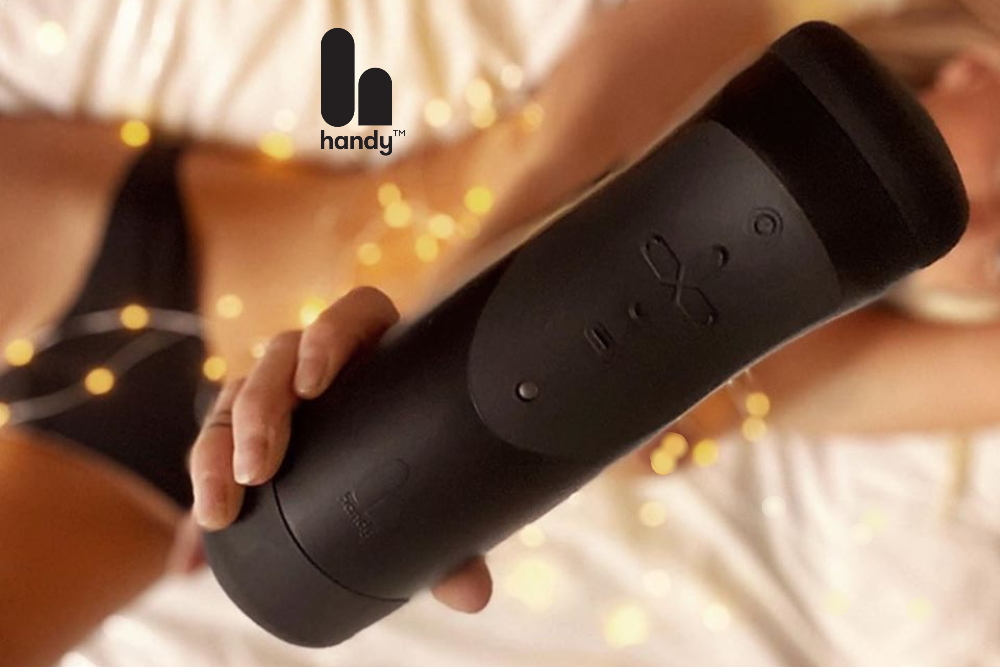 The Handy masturbator is an automated stroking toy for men that has received many positive reviews since it's launch earlier this year. It was developed by a Norwegian company looking to transform the sextech market with the world's first premium, reliable, effective masturbator for men.
The function of the Handy is very similar to the Fleshlight Launch and Quickshot in that the device strokes an attached masturbation sleeve. While the function is similar, the look and feel of the Handy is quite different from the Fleshlight toys due to the sleeve being attached on the side instead of housed within the device. With its compact design, the Handy is also much lighter and easier to control.
The Handy comes with its own flexible sleeve but works just fine with a wide variety of popular male masturbation toys thanks to its adjustable attachment band. The TrueGrip band is an important feature in that it allows the Handy to fit men of all sizes. Users can also adjust the tightness of the band to control the firmness of the sleeve's grip.
The Handy's speed and length of stroke are variable giving users the option to enjoy short and quick or long and smooth strokes. The stroke length maxes out at 11 cm (4.3″) and the top speed is 10 strokes per second. The impressive speed is helped by the fact that the Handy uses a power cable rather than running on batteries.
With built-in Wi-Fi and Bluetooth, the Handy can be controlled remotely or synchronized with online videos for a truly immersive experience. The content and connection portal is accessed through the handyfeeling.com site. There are plans to add VR interactivity as well.
Proudly created and built by Norwegian engineers, the Handy is definitely a device men should consider when shopping for an automated stroker. With its adjustable grip, variable stroke settings and impressive power, the Handy makes a great addition to our SexTech For Men Shop.