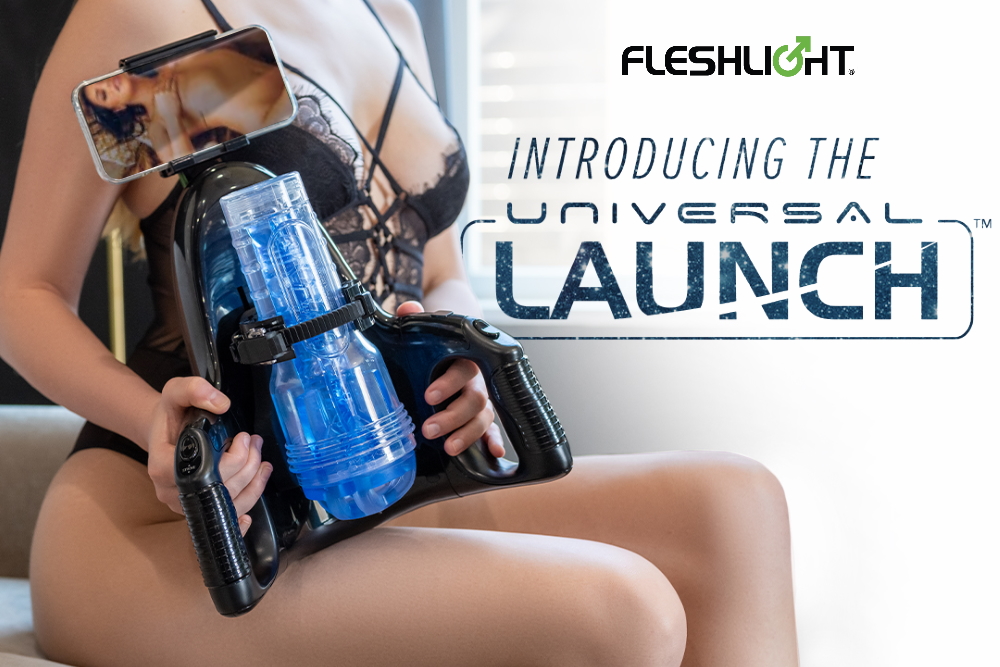 The Universal Launch is the latest automated stroking device from Fleshlight. The new masturbator works with a variety of Fleshlight products and lets you control the stroke length, placement, and speed. The Universal Launch also includes a convenient smartphone mount so you can easily watch your favorite content while enjoying the mind-blowing sensations of your Fleshlight.
The Universal Launch is designed to fit most of the Fleshlight product line and other non-Fleshlight, cased strokes. The Universal Ratcheting System is simple to use, just slide your product through the circular opening and then use the large latch to tighten the grip. Then power up and enjoy the automated stroker's many features.
The Universal Launch has easy-to-use, light-up rocker switches that allow you to adjust between four variable stroke lengths and stroke speeds, moving as quickly as 250 strokes per minute. If you want a more concentrated experience, you can shorten the stroke length and toggle through the three available pleasure zones – base, shaft, or tip.
Located at the top of the device, the universal smartphone mount lets you view your favorite content while both hands are on the controls. Your intense Fleshlight sessions can run as long as 60 minutes on a full charge. For an extended experience, you can plug the device into an outlet utilizing Fleshlight Active Launch Mode.
The Universal Launch is another superb addition to a Fleshlight product lineup that already includes the Quickshot Launch. This newest device is a great follow-up to the very popular Fleshlight Launch that was introduced in 2017. The automated stroking experience with larger Fleshlight toys is now much-improved thanks to a more compact and open design, innovative touch controls, and better performance. All you need to do is lock in your favorite Fleshlight, lube up and prepare to be blown away.