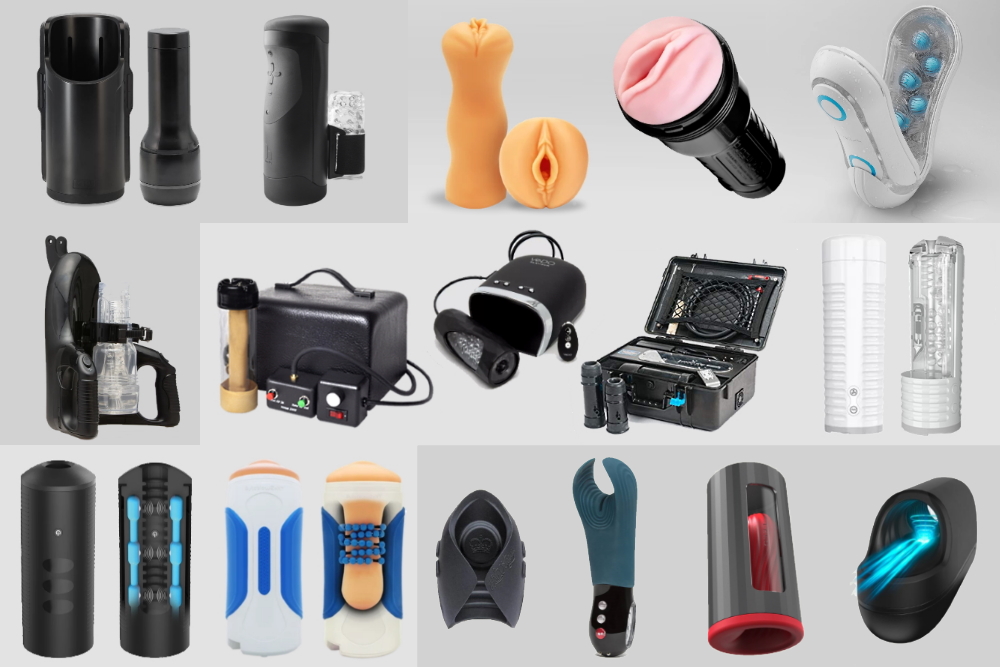 Thanks to the continuing growth of sextech for men, there are now several different types of male masturbators to choose from. With such a wide variety of male sex toys being marketed as masturbators, we thought it might be helpful to categorize them. After much consideration, we settled on 5 categories of male masturbators: Manual Strokers, Automated Strokers, Milkers, Simulators and Vibrators.
Manual Strokers

Manual strokers are the most basic form of a male masturbator. Often called a pocket pussy or onahole, these handheld strokers consist of a flesh-like sleeve with an opening that is usually shaped like female genitalia. Some sleeves are designed to be used by themselves while others are encased in a plastic tube. These masturbators are most commonly stroked manually, but can also be secured in place and penetrated.
Manual strokers have been around for a very long time, but they really started to become popular in the late 1990s when the first Fleshlight product hit the market. The brand has become so famous that many consumers now refer to any manual stroker as a Fleshlight.
Several manual strokers incorporate extra features like those found in the Tenga line of male masturbators. In addition to their simple, low-cost cups and eggs, Tenga has developed a variety of strokers with unique features including vibrators, pleasure orbs, and flip-open access.
Automated Strokers

Automated strokers perform the stroking function for the user. These masturbators move an attached manual stroker up and down at various stroke lengths and speeds. Often used as a hands-free device, some automated strokers have the ability to interact with other toys or sync with adult content.
Introduced in 2017, the Fleshlight Launch – Powered by Kiiroo immediately became the gold standard for automated strokers. Fleshlight expanded its automated stroker lineup with the release of the Quickshot Launch in 2018 and the Universal Launch in 2021. Kiiroo added another automated stroker, the Keon, in 2020. The Handy masturbator was launched in 2019 and is currently the most popular automated stroker to sync with adult content.
There are some lesser-known all-in-one automated strokers that move a sleeve contained within the device. Due to size constraints, these masturbators usually have a much shorter stroke length and can be a bit unsafe. One plus for these strokers is that they often have the ability to rotate the inner sleeve in addition to the usual up and down motion.
Milkers

Milkers are fully automated suction machines. Truly a hands-free masturbator, the main parts of a milker are the air pump unit and the receiver. The pump unit is connected by a tube to the receiver which often looks very similar to a stroker with its flexible inner sleeve and hard outer cylinder. When a user enters the sleeve of the receiver, airflow from the adjustable pump unit will produce various sucking, stroking, and massaging sensations.
The most well-known milker is the Venus 2000, now branded the Venus For Men. This masturbator has been around since the early 1990s and is still quite popular. The Tremblr was introduced by F-Machine in 2016 as a lower-cost option to the Venus. The Vedo Hummer is another budget-friendly alternative and was recently updated to version 2.0.
Milkers are the most expensive male masturbators, but plenty of satisfied users say they are well worth the additional cost. Often called blowjob machines, milkers deliver unique pleasures and are great for practicing edging and forced orgasm.
Simulators

Simulators use internal components to create a variety of sensations. Like many manual strokers, these masturbators consist of a flesh-like sleeve that is encased in a plastic tube. Vibrators, beads, and contracting rings are a few of the different components used to generate sensations intended to mimic sexual activity. Some simulators can also be used as a stroker, but they are mainly designed to be fully penetrated and held in place.
The popularity of simulators has been growing for several years. Lovense began developing their Max masturbator way back in 2011 and released the updated Max 2 in 2019. Kiiroo has been a leader in this category since 2015 when their first Onyx toy was released. The Onyx is now on its third generation and Kiiroo also added the Titan masturbator in 2018. Autoblow achieved great success with their 2014 crowdfunding campaign for the Autoblow 2 blowjob simulator and again for the Autoblow A.I. in 2018.
Like automated strokers, some simulators have the ability to interact with other toys or sync with adult content. With teledildonic and interactive functionality, these masturbators can provide an extremely immersive user experience.
Vibrators

Vibrators designed for the penis are very effective masturbators for many men. These devices use a variety of technologies and come in several different shapes and sizes. Some vibrators can be used as strokers while others are meant to be held in place. The target area is usually the frenulum, but users are encouraged to focus the vibrations wherever they feel best.
Hot Octopuss has been making their trademarked Guybrators since 2013. Their Pulse and Jett vibrators stimulate users with powerful oscillations and varying vibration frequencies. Fun Factory introduced their first Cobra Libre vibrator back in 2011 and released their very popular Manta vibrating stroker in 2018. The F1S from Lelo was launched in 2019 and uses sonic wave technology for deeply penetrating vibrations.
The Arcwave Ion generated a lot of attention when it arrived in 2020. It is marketed as The World's First Pleasure Air Stroker but fits better here as a vibrator. Perhaps toys with pulsating airwaves will require their own masturbator category one day.
Not Considered Male Masturbators

Hips, Butts, Torsos, and Dolls – Occasionally the smaller versions of these products are labeled as masturbators. Some might qualify as very large manual strokers, but it seems inappropriate to put them in that category. Products like RealDoll are so much more.
Prostate Massagers – There are certainly plenty of men that can achieve orgasm from the use of a prostate massager, but these products are not marketed as masturbators and are viewed more as toys that can be used to enhance masturbation.
Penis Pumps – These products are often used prior to masturbation to increase blood flow and penis size. Top brand Bathmate does have vibrators that can be attached to their pumps, but they are still used more as foreplay toys than masturbators.
It's fantastic that men now have the opportunity to enjoy so many different types of male masturbators. Hopefully, the variety of choices will continue to grow and we'll need to add more categories here in the future.
Note: We're always open to improving our content based on your feedback so please let us know if you have any suggestions.