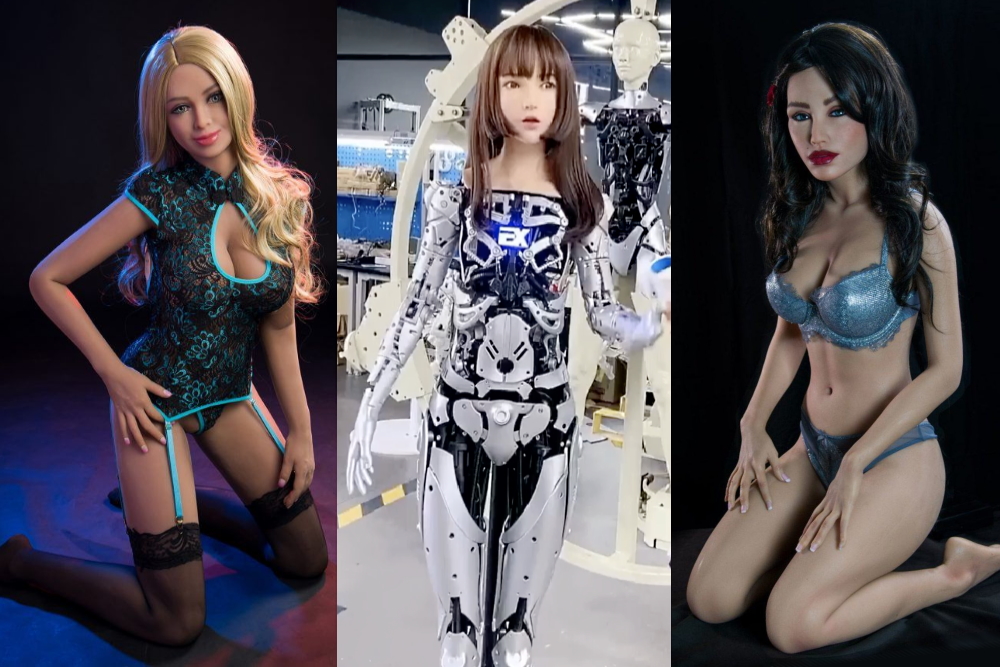 Sexbots might be the ultimate sextech product, but only a few doll manufacturers are currently producing AI love dolls or sex robots. Many more doll brands are in the process of developing their own sexbots and will no doubt benefit from the ongoing advancements in robotics and artificial intelligence (AI) technology. Here's a look at the leading sexbot companies in 2021.
Realdoll
Producers of premium silicone dolls since 1997, Realdoll announced the Realbotix project in 2015 with the goal to develop an AI-driven robotic doll system. The project brought together a team of specialists in artificial intelligence, electronics, multiplatform applications, robotics, and virtual reality. The first Realdoll robotic head was released in 2018 under their new RealDollx product line.
The RealDollx modular head has multiple points of actuation, which enables the doll to form expressions, move its head, and speak. The eyes can also move and blink, providing a very immersive user experience. The RealDollx robotic heads are designed to run with customizable AI software codenamed "X-Mode", which allows users to create unique personalities and control the voice of the robot.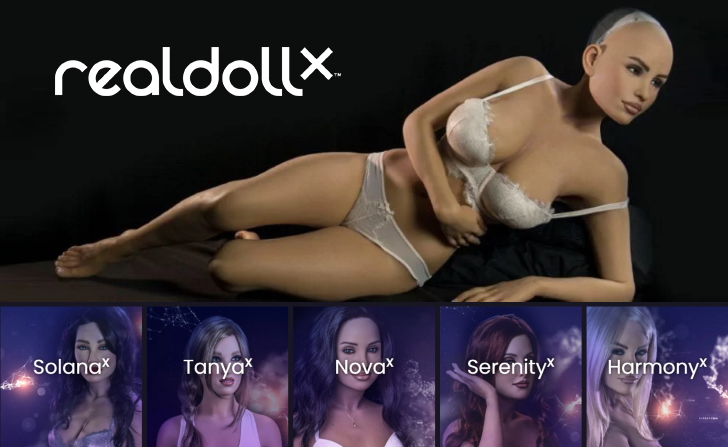 The RealDollx body is not yet equipped with animatronic parts, but Realdoll is working to add that feature and did display a prototype doll with a robotic torso at the 2020 AVN show. RealDollx bodies can now be enhanced by adding a Sensex electronic vaginal insert that pairs with the X-Mode app via Bluetooth. It can detect touch and movement, and the app will transmit audio feedback to any paired audio source.
Since releasing the original Harmony and Solana robotic heads in 2018, RealDollx has added Nova, Serenity, and Tonya. The price for each robotic head is $5,999 and a head+body combo is $9,999. Options for the RealDollx are the same as any other RealDoll in terms of hair, makeup, eye color, and other details.
DS Doll
DS Doll (also known as Doll Sweet, EXDoll) is a leading provider of high-quality silicone sex dolls. DS doll was established in 2010 and has been working hard to develop a revolutionary robotic sex doll since 2014. Please note that the robotics project is generally linked to EXDoll, their brand used mainly for the Chinese market.
DS Doll revealed their prototype robotic head in 2017. The initial version produced a variety of different facial expressions including blinking, smirks, and smiles. In more recent versions, DS Doll has greatly improved the function of its robotic head, including the addition of a speech simulation feature.
The most impressive achievement from DS Doll has been their development of a robotic body. They have showcased humanoids that can execute a wide range of movements in their neck, shoulders, arms, hands, and torso. Their robot skeleton is modeled on a real body and replicates human gestures extremely well.
It has also been reported that DS Doll partnered with Microsoft in order to use Microsoft AI for language recognition and interaction. With artificial intelligence, facial expressions, and enunciation skills, DS Doll robots are capable of providing a human-like communication experience.
The DS Doll robotic head was made available for preorder in 2018 and is still at that stage in 2021. A company rep stated that they are progressing through the R&D phase and are only implementing their robots in non-sexual applications (customer service, lecture, museum) at this time. It's unclear how long it will be before DS Doll utilizes their new technology to build revolutionary sexbots.
AI-Tech
Founded in 2016, AI-Tech develops, produces, and sells artificial intelligence technology services and products. They are committed to building a practical AI technology platform using their self-developed hardware and software. Their hyper-realistic love dolls feature body temperature control, emotional facial expressions, interactive voice communication, self-learning AI, and touch sensors.
The AI system installed in the AI-Tech sexbots allows users to control and customize responses. The dolls can speak in multiple languages and can also have fully interactive conversations. The more a user talks and interacts with the doll, the more it learns and the deeper the relationship becomes. Automatic updates are available to continuously improve the doll's vocal abilities and intelligence.
The AI-Tech sexbots can mimic several different facial expressions. They have animated lips for speaking and eyes that blink and wink. With body sensors in several key areas, they can respond to touch with a groan or moan. The dolls also have an intelligent heating system that regulates their temperature and makes them perfect for cuddling.
AI-Tech sexbots are currently available for purchase on several doll sites with a variety of body types and robotic heads to choose from. The typical retail price ranges from $3000 to $3600. Some retailers also offer customers the option to purchase AI-Tech heads and match them with compatible bodies from other well-known doll brands.
SE Doll
SE Doll is a premium sex doll manufacturer specializing in TPE love dolls. Their stated goal is to be one of the world's most innovative, best performing, and trusted brands offering unique and alluring sex dolls in all shapes and sizes. In 2020 they released a one-of-a-kind moving sex robot that performs spinal movements to facilitate oral, vaginal, and anal penetration.
The SE Doll sexbots are driven by mechanics located within the abdomen area of the doll. When activated, the sexbot performs a rocking motion that mimics natural sex movements. The robotic dolls feature 3 different intensity levels which the user controls via a wireless handheld remote.
The moving parts of the SE Doll sexbots are powered by an AC adaptor that connects to the doll's foot. There is a built-in temperature control system to ensure no overheating. With all the mechanics hidden inside the sexbot's body, the noise level is somewhat moderated and usually measures between 50 dB to 60 dB.
SE Doll sexbots are currently available for purchase on several doll sites with 3 different body types to choose from. The retail price ranges from $2500 to $3500 and there are many customization options.
More Sexbots Coming Soon
Many more sex doll brands should be joining this list in the near future as they continue to take advantage of the ongoing advancements in AI and robotics. The market for sexbots is still in the early stages of development and will undoubtedly experience exponential growth as robots become part of our everyday lives.
The companies listed above are blazing a trail for others to follow and they deserve a lot of credit for taking on that challenge. Their products are truly the future of sextech.