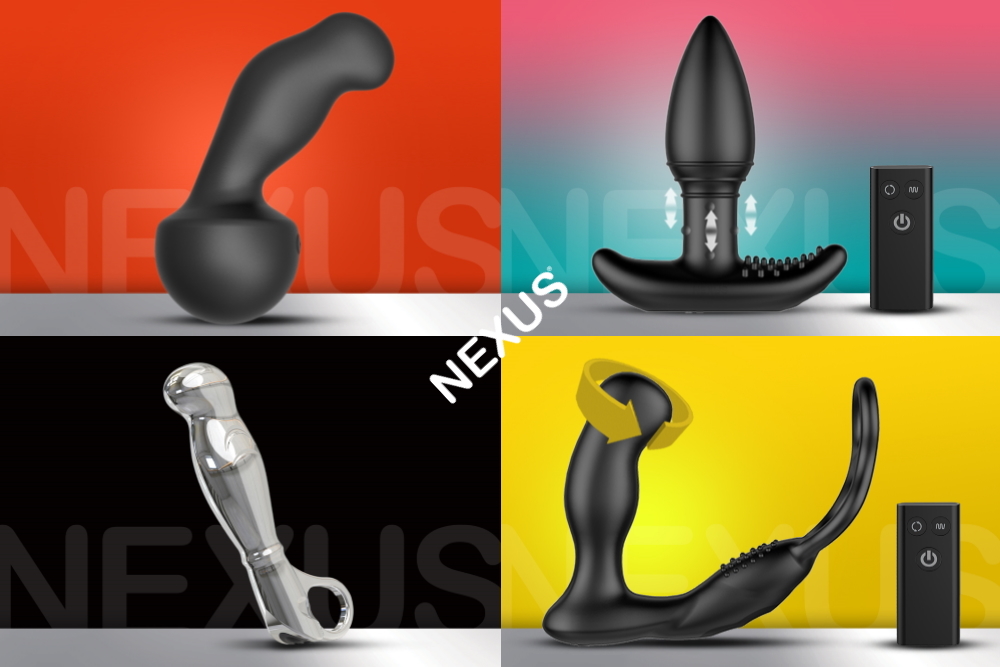 Nexus has added 4 new prostate toys to their already extensive collection. The new additions include a butt plug (B Stroker), a vibrating massager (Gyrovibe), an aluminum vibrator (Fortis), and the ultimate prostate massager (Revo Embrace).
The newly launched Nexus B Stroker is a plug shaped toy that sits alongside their existing G Stroker. The only difference between the 2 stroking toys is the shape of their shaft. The G Stroker is shaped for G or P spot stimulation whereas the new B Stroker is a medium shaped butt plug. Each toy has tiny beads that dance up and down at the base of the shaft to emulate penetration and a 6 function vibrating motor that emanates through the base and shaft. Both toys also come with a rechargeable, waterproof remote.
To create the Gyrovibe, Nexus added 48 combinations of vibration to its already popular Gyro massager. The Gyrovibe benefits from two, six function, powerful motors, one in the shaft, and one in the base making it perfect for hands-free G and P spot stimulation. Gyrovibe has the same pivot base as Gyro which means the user can simply sit and gyrate their way to orgasm.

Nexus is very proud of Fortis, the first-ever metal vibrator. Unlike other metal sex toys, Fortis has a 6 function motor inside that delivers vibrations through the shaft. Fortis is made from aluminum and is shaped perfectly for G or P spot stimulation. Just like other metal sex toys users can heat or cool it with water for temperature play as it's waterproof and submersible. And like all other toys in the Nexus range, Fortis is rechargeable.
Nexus has combined two of its bestselling products to create the ultimate prostate massager. The Revo Embrace benefits from the powerful rotating shaft and strong vibrating perineum massager of the famous Revo range and the supportive double cock ring of the popular Simul8 range. Revo Embrace delivers 4 points of pleasure; rotation for a firm prostate massage, vibration for perineum stimulation, and a double cock ring to keep you harder for longer. It also comes with a rechargeable and waterproof remote control for ease of play alone or with a partner.
The Nexus Revo range is famous for its strong bi rotational shaft, powered by a torque motor that massages the prostate like no other. All of the prostate toys in the range have 6 vibrating functions to simultaneously stimulate the perineum, are waterproof, and rechargeable. The Revo range now consists of 6 models; Revo, Revo Slim, Revo Stealth, Revo Intense, Revo Extreme, and Revo Embrace.