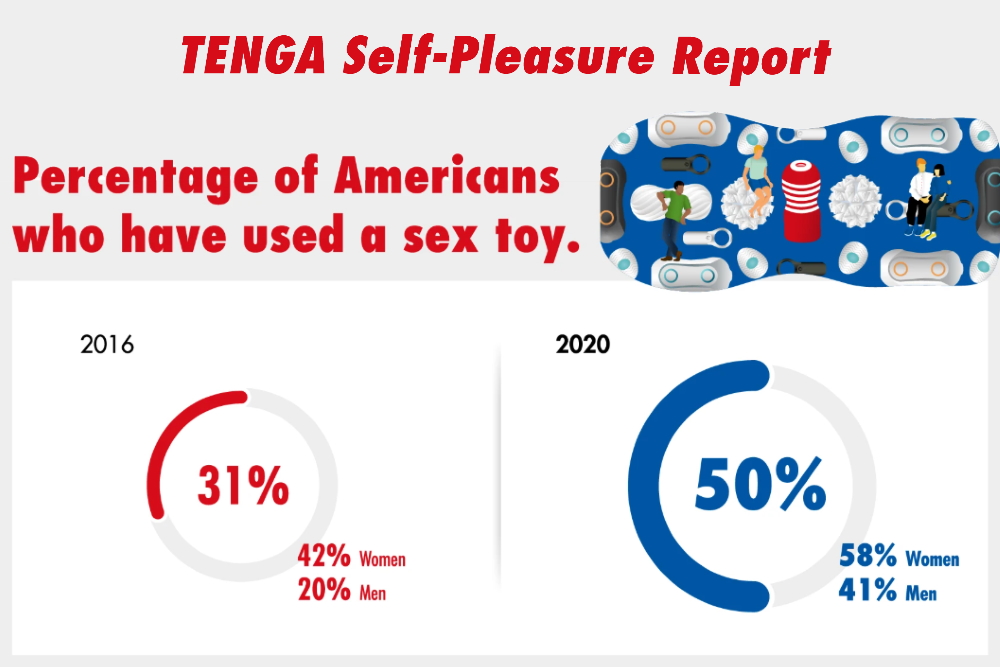 The 2020 TENGA Self-Pleasure Report has been posted and the results show an encouraging shift in attitudes. This year TENGA surveyed over 5,000 men and women aged between 18-54 across 5 countries, with 1,000 in the US alone. The deep dive about people's habits related to sex, masturbation, and sex toy usage revealed that America is becoming more open towards masturbation and sexuality.
TENGA started their Self-Pleasure Reports in 2016 with their "United State(s) of Masturbation" survey as a way to celebrate Masturbation May, an annual self-pleasure movement. Since then, they have surveyed numerous countries to uncover the masturbation habits of people around the world. This year marks not only the 5th year of the TENGA Self-Pleasure Report, but it's also TENGA's 15th year since launch, as well as the 25th anniversary of Masturbation May.
It was a little discouraging to see that sex toy usage among men dropped to 41% this year after reaching a high of 44% in 2019. The good news is that double the amount of men are now using sex toys compared to when TENGA conducted their first survey in 2016. Another promising result is the number of American men who are open to purchasing a sex toy in the future jumped to 69%.

While many more women are using sex toys, the frequency of use is much higher for men. An impressive 40% of men who have used sex toys report using them at least once a week, compared to only 28% of women. It's interesting to see a higher frequency of usage considering that only 6% of Americans believe that sex toys are more useful for pleasuring men while 42% feel they are more useful for women.
Among current sex toy users, motivation for using them varies significantly by gender. A solid majority of women are motivated to use sex toys to achieve or improve their orgasms, while men seek to try new things, explore fantasies, and enhance their physical sensations.
There are many more interesting revelations to be found in the 100+ page 2020 TENGA Self-Pleasure Report. It really does a great job highlighting the role that masturbation, sex, and sex toys play in people's lives around the world. A big thank you to TENGA for their great work on this survey.